How We Work for You
Our investment process begins by listening to you. Talk to our Chartered Financial Analyst (CFA) and Certified Financial Planner (CFP) pros. We'll give expert guidance and solutions based on a thorough understanding of your existing portfolio, personal circumstances, preferences, worldview, and risk/return objectives.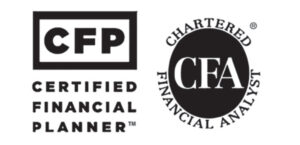 Our investment professionals work hard to help you craft a personalized, high-performance portfolio of readily marketable assets, including stocks, bonds, options, and low-cost exchange-traded funds (ETFs).
We avoid illiquid and difficult to value alternative investments. And we don't outsource the management of your portfolio to a third party.
We manage your portfolio for tax efficiency. Because it's not your pre-tax returns that matter most, it's what you keep after-tax.
Dedicated to your investing success, we provide ongoing monitoring and communications, make recommendations and changes as appropriate, and keep you up-to-date and well informed.
Successful Portfolios is an authorized independent advisor at Charles Schwab, TD Ameritrade, and Interactive Brokers, ensuring safe and secure separate custody of your assets. We'd be delighted to help you chose the right broker best suited for your needs.
We're a  fee-only, fiduciary advisor. You're not paying us commissions, and we don't pitch products. Our mission is your success. When you succeed, we succeed.
If you're seeking a professional second opinion regarding your existing portfolio or investment strategy, call our Clearwater offices at 727-744-3614. Let us evaluate the potential upside and downside of any stock, bond, option, ETF, or alternative asset that you're considering before you invest. Collaborate with our team for a custom, bespoke portfolio that fits you like a glove.
Take the FinaMetrica Risk Tolerance Quiz
Successful Portfolios is pleased to provide you with a free online assessment of your personal risk tolerance. Powered by the award-winning, internationally recognized FinaMetrica Risk Profiling System, access to this unique tool costs $45 elsewhere! Discover your risk lolerance. Make smarter investments.